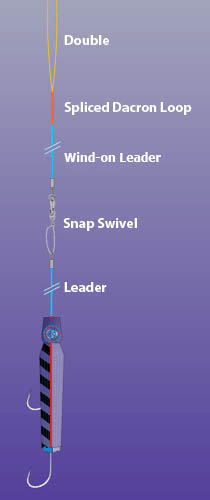 Wind-on leaders is a system where the leader is connected to the main line in a manner which allows the leader to be wound directly onto the reel spool. Using leaders of 100lb or less, knots such as the uni knot are adequate as are several other types. Leader sizes greater than this require other connection systems such as the Dacron or Spectra splice. The method of connection of the leader to the main line is a critical factor. There is a very high failure rate when this is done incorrectly.
An example of a 24kg outfit using a wind-on leader is a short double say, 3-feet, connected to a 19-foot-long 200lb wind-on leader, via a spliced Dacron loop. At the other end of the wind-on, a snap swivel with a breaking strain greater than 200lb, is crimped. The lure leader is 9-feet of 300lb. Note that under IGFA rules this is measured from the end of the loop that connects to the main line to the end of the lure skirt or trailing hook, whichever is the longer.
Other factors should be taken into consideration when making the decision whether to use wind-on leaders or not, some of which are:
- Wind-on leaders take up a significant amount of space on the spool which means you will not be using a full spool of line. This results in a loss of speed in recovering line and a greater variance in drag setting, as the line loss will diminish spool size, increasing drag setting quicker than if you use a full spool of line.
- They are dangerous if they get jammed in the reel housing. To prevent this more space on the reel spool should be allowed for them.
- The leader length and thickness should be considered. A wind-on leader in some areas is considered to be as long a length of 600 or 800lb leader as possible regardless of line class, bait or lure size. If they are considered more an extension of the main line with added strength then the system will work more effectively. There are several examples following.